RETAIL
Fabric Color:
Please Select an Option
AttrValue1
Base Finish:
Please Select an Option
AttrValue2
Size:
Please Select an Option
AttrValue3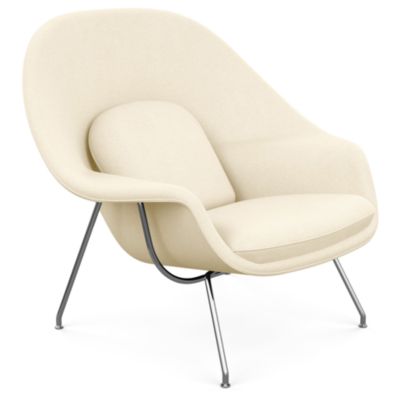 Details
Florence Knoll challenged legendary designer Eero Saarinen to create a chair that she could curl up in that provides a supreme amount of comfort. The result: the Saarinen Womb Chair. Designed in 1948, this timeless piece was crafted in a way to provide a sense of comfort and security. Its unique seat is created from a molded, reinforced fiberglass shell which is layered in dense foam and topped with separate seat and back cushions in polyester fiver over a foam core. Its stable look is finished with a steel rod base. Ideal for any living room, guest room or bedroom, choose the aesthetic that works best for your modern home. Read More
Knoll is Modern Always® because modern always works. For over 80 years, each chair, table, and desk has been conceived and constructed with a forward-thinking mentality, using the most advanced production methods and materials to create an immersive sensory experience that can last a lifetime. In doing so, the company has mastered the vital and nuanced elements behind furniture efficiency, ergonomics, and comfort while, at the same time, using recovery practices and materials that positively impact the environment.
The Saarinen Womb Chair is available with the following:
Details:
Designed by Eero Saarinen in 1948
Seat shell is foam-covered molded fiberglass
Base is steel rod with polished chrome or black paint
GREENGUARD Indoor Air Quality Certified
Pairs with the Saarinen Womb Ottoman
Made In USA
Options:
Fabric Color: Classic Boucle: Crimson, Classic Boucle: Aegean, Classic Boucle: Pearl, Classic Boucle: Flax, Classic Boucle: Cayenne, Classic Boucle: Onyx, Classic Boucle: Neutral, Classic Boucle: Smoke, Classic Boucle: Pumpernickel, Classic Boucle: Black Iris, Classic Boucle: Chartreuse, Knoll Felt: Mocha, Knoll Felt: Smoke, Cato: Fire Red, Cato: Orange, Cato: Brown, Cato: Natural, Volo Leather: Flint, Volo Leather: Tan, Volo Leather: Volo Black

Base Finish: Polished Chrome, Black Powder-Coat

Size: Medium, Large
Dimensions:
Large Option Item: Width 40", Height 35.5", Depth 34", Seat Height 16", Arm Height 20.5"
Medium Option Item: Width 35", Height 31.25", Depth 31", Seat Height 15", Arm Height 18"
Manufacturer IDs: view
70LM-C-K162/28, 70L-C-K162/28, 70LM-BL-K162/28, 70L-BL-K162/28, 70LM-C-K162/25, 70L-C-K162/25, 70LM-BL-K162/25, 70L-BL-K162/25, 70LM-C-K162/1, 70L-C-K162/1, 70LM-BL-K162/1, 70L-BL-K162/1, 70LM-C-K162/3, 70L-C-K162/3, 70LM-BL-K162/3, 70L-BL-K162/3, 70LM-C-K162/7, 70L-C-K162/7, 70LM-BL-K162/7, 70L-BL-K162/7, 70LM-C-K162/12, 70L-C-K162/12, 70LM-BL-K162/12, 70L-BL-K162/12, 70LM-C-K162/20, 70L-C-K162/20, 70LM-BL-K162/20, 70L-BL-K162/20, 70LM-C-K162/21, 70L-C-K162/21, 70LM-BL-K162/21, 70L-BL-K162/21, 70LM-C-K162/22, 70L-C-K162/22, 70LM-BL-K162/22, 70L-BL-K162/22, 70LM-C-K162/24, 70L-C-K162/24, 70LM-BL-K162/24, 70L-BL-K162/24, 70LM-C-K162/26, 70L-C-K162/26, 70LM-BL-K162/26, 70L-BL-K162/26, 70LM-C-K1207/15, 70L-C-K1207/15, 70LM-BL-K1207/15, 70L-BL-K1207/15, 70LM-C-K1207/19, 70L-C-K1207/19, 70LM-BL-K1207/19, 70L-BL-K1207/19, 70LM-C-H800/19, 70L-C-H800/19, 70LM-BL-H800/19, 70L-BL-H800/19, 70LM-C-H800/40, 70L-C-H800/40, 70LM-BL-H800/40, 70L-BL-H800/40, 70LM-C-H800/43, 70L-C-H800/43, 70LM-BL-H800/43, 70L-BL-H800/43, 70LM-C-H800/50, 70L-C-H800/50, 70LM-BL-H800/50, 70L-BL-H800/50, 70LM-C-VO923, 70L-C-VO923, 70LM-BL-VO923, 70L-BL-VO923, 70LM-C-VO945, 70L-C-VO945, 70LM-BL-VO945, 70L-BL-VO945, 70LM-C-VOBLK, 70L-C-VOBLK, 70LM-BL-VOBLK, 70L-BL-VOBLK
Need help with some of our terminology? Check out Lumens' Lighting & Design Glossary.
Show Less
Diagram
Reviews
Reviews
Check out what other customers think...
Product Family
Product Family
Saarinen by Knoll
Show your style with #loveyourlumens
ADD A PHOTO